SEEMS LIKE OLD TIMES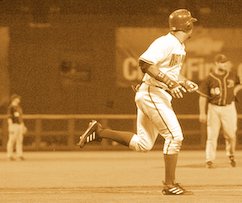 [July 2nd] -- Thank you, Brian Meadows. Sooner or later, the opposition had to make an error, or get picked off of first base, or serve up a game winning home run. As usual, however, it was the Nats who made the error, and it was the Nats who had a player picked off of first. I'm surprised that Nick Johnson didn't realize that the script called for Aubrey Huff to hit the game winner. Well, sometimes, by not paying attention, good things can happen. Way to go Nick!

It's not that the Nationals played particularly well. Ryan Zimmerman got picked off of first base, on a bad throw no less. In the 9th inning, with Rocco Baldelli on first, Aubrey Huff hit a sharp one-hopper directly at Royce Clayton. For some reason, Clayton went down to his knees to snare the tailor-made double play ball only to have it bounce off his glove and roll towards deep short. E-6. E-6, for the fourth time in eight games. Luckily no one scored in the inning.

Livan Hernandez pitched well enough, I guess, allowing three runs in seven innings. The ten hits and four walks did put a damper on the outing, however. His starts have little to do with winning and losing these days. All that's important is that he shows the Mets and Yankees and Dodgers and Angels that he has enough left in the tank to warrant trading for him. And he did just that last night. The tank isn't full, mind you, but neither is it on fumes.

Speaking of having something left in the tank, Jose Guillen's long bomb was easily his longest home run at RFK Stadium. Even with that home run, however, he's still hitting only .205, not well enough to retain his starting right-field job and certainly not well enough to garner any interest from a contending team. His situation is really very sad. Just a few short months ago, he was offered the stability he's been craving throughout his career when Jim Bowden tried to get him to sign a four year, (I think) $28 million dollar contract. He was stubborn and demanded a 5 year, $50 million dollar deal. Now, especially if he doesn't begin to hit, the only teams that will show any interest will be the Royals and Pirates. And considering that he burned his bridges in Pittsburgh a long time ago, he might not do any better than winding up as a 4th outfielder somewhere. Were I Jim Bowden (though I couldn't be because I don't drink), I would offer Jose Guillen a two year extension, perhaps for a little more money than he's receiving now, and give him the opportunity to work his way back to that big payday that he's frittered away. He's going to hit around .280, and he's going to hit around 30 homers and he's going to drive in nearly 90 runs next year; might as well be with the Nationals. This has just been "one of those" years. I'd love to keep him if he'd be willing to sign a 2 year/$13 million dollar contract.

Ryan Zimmerman said that he was having no mechanical problems during that 1-27 slump. I might be way off base here (don't you love how the language of baseball is intertwined with the English language?), but the only other prolonged slump the rookie has gone through came immediately after his dramatic home run off of Billy Wagner that tied the game in the 9th inning at Shea Stadium earlier this year. Maybe the kid doesn't deal well with success.

Enjoy your Sunday. I'm still trying to decide if God will hate me if I bring my cell phone into the chapel and keep an eye on the game. My guess is that God will love me, but my wife will threaten me with bodily harm. So no, I'm not going to do it. Now, if they were playing the Mets .....
NOTE: Pedro Astacio has been added to the 40 man roster and will start Monday against the Florida Marlins. Now, this is a very interesting situation. Everyone, everyone is in agreement that this is a team that needs a "dose of youngin'" real quick. So a youngin' (Shawn Hill) goes on the disabled list and is replaced by a grizzled veteran (I say "grizzled veteran" because I'm too lazy to look up his age -- 36 I think) in the rotation. There is no conceivable situation that I can come up with where Astacio will remain with the team for any length of time. I'm guessing that Jim Bowden is hoping that the old man can show "enough" to trade him for a mid-level prospect sometime this month. Chance of Livan being traded before July 31st: 75% ... chance of Ramon Ortiz being traded: 85% ... chance of Tony Armas Jr being traded: 50% ... chance of Astacio being traded: 100% [unless he can't come back from his injury].