THAT WAS GREAT, NOW DO IT AGAIN NEXT TIME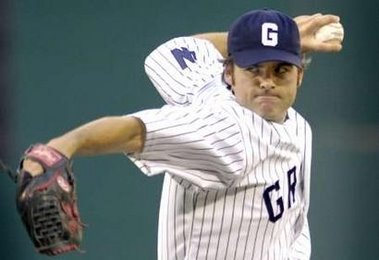 [August 11th] -- Now, if Billy Traber can just do that another eight or so times this summer, the Nationals pitching woes will be lessened just a bit.
Traber, a former Mets top prospect, pitched seven strong innings on Friday, giving up just four hits and one run on a home run by the Mets' catcher. Hmmmm .... I'm betting that would be Paul LoDuca. *Ouch* Just had to get that in there. It was Traber's first solid outing this year. He gave up three runs and four walks in his first start against the Phillies, winning the game 10-4. He got shelled five days later and was back in New Orleans.
Traber pitched the way the Mets envisioned he would when they drafted him in the first round six years ago. A career-ending type injury caused both the Mets, and later the Indians to give up on him. His only option left was to sign a minor-league contract with a pitching poor team.
It seems to have worked, at least for the moment.
Felipe Lopez is without a doubt the Expos / Nationals best offensive shortstop in recent memory. He is also the worst defensively. Last year, many of the Nationals' blogs pounded Cristian Guzman for his defense lapses throughout the season. He made 15 errors. All year. Lopez has committed 21 errors this year and there is still a month and a half remaining in the season. He'll probably close in on 30 errors by mid September, thirteen more than his career high from last year. One of those "Cardinal Rules" in baseball is that you have to have a solid defensive shortstop to win a championship. I don't know about that. Lopez's defense might give up, say, five more unearned runs than Guzman's might have, but he'll end up driving in a minimum twenty-five more runs than Guzman. I'd say that is a net positive for the Nats.
NATS NOTES: The Nationals drew nearly 30,000 to RFK for Friday's game against the Mets. I think that's where Nats' crowds need to start -- last year's 2.7 million is the minimum number of fans that should turn out for major league baseball in Washington ... Ryan Zimmerman hit his 36th double and has now gotten a hit in 13 out of his last 14 games ...
Comments:
Farid, I think you are beginning to see why Cincy dumped Felipe Lopez. He is a butcher at SS and I found it insulting when gasbag Bowden tried to tell us that he was a defensive upgrade at SS. Additionally, despite what you say, he hasn't shown a whole lot with his bat, except that he strikes out a lot. The Cincy Engquirer stated the other day that Lopez is lazy and has a bad attitude, which is why he was dumped.
Phil,
We're seeing the worst of Felipe Lopez right now. Remember, he only made 17 errors in 2005 -- a full season for him. Players don't suddenly get defensively stupid. I think he'll revert back to his "adequate" defensive level.
I mean, look at Nick Johnson. He's a near-golden glove first baseban who has committed more errors at first than the Nationals rookie has at third. I think he'll be back too.
I remember reading somewhere that Felipe was a natural 2B. Maybe we can trade Vidro during the offseason and have Guzman be the SS.
Post a Comment
<< Home