YUCK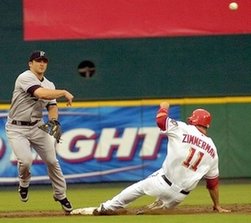 [August 10th] -- It's becoming clear that wins for the Washington Nationals are going to become difficult to come by over the next couple of months. This is a team in transition, a team composed of over-the-hill veterans and youngsters showing for the first time what they can do at the major league level. August is a month that has no real intrinsic value. Like the Nationals, it's a month of transition, connecting the fun-and-sun part of summer with the exciting back-to-school "new beginnings" part of September. August, however, is dull, redundant and frustrating.
Kind of like the Nationals.


It was great that the Nationals came back to tie the game at six, but lousy that they eventually lost the game. It was wonderful that Alfonso hit yet another home run, but terrible that the Nationals loaded the bases in the first inning on three walks yet couldn't score a run. After watching Anibal Sanchez throw twelve balls and only two strikes, Nick Johnson swung at the first two pitches before popping out. Ryan Zimmerman then took a couple of pitches before grounding into a double play.

A bad game during an especially bad time in what will undoubtedly be a long season.


And that's all I have to say about that.
Comments:
Yuck, if you think this is depressing, wait until the Mets take batting practice at RFK this weekend against our marginal Triple A pitchers. After I attended spring training in Viera, I predicted sixty to seventy wins, a drop in attendance of at least 20% and a last place finish in the East, even though everyone else thought the Marlins had a lock on last place. I think these predictions are still on the mark. The only thing that makes this even worse is that we didn't get rid a Bowden. I wrongly thought that the new owners would properly show him the door.
Matt Chico bombed in his first start at Harrisburg but he looks like Cy Young compared to Garrett Mock, who last night gave up six hits, one walk and five runs in 2/3 of an inning against Portland. Mock's ERA is 67.50. Bowden may not do anymore crowing about these two "prospects".
Post a Comment
<< Home